What is ARPA Chain? This article will introduce you to the innovative project. It has a global vision, connecting blockchain with artificial intelligence (AI) and other cutting-edge technologies for smart contracts that can be instantly executed across multiple blockchains.
ARPA is a project that aims to create an open-source, decentralized marketplace for both buyers and sellers of computing resources. The idea behind ARPA is to disrupt the current centralized market by creating a platform where users can freely exchange their computing resources without having to pay high fees or be restricted by geographical boundaries.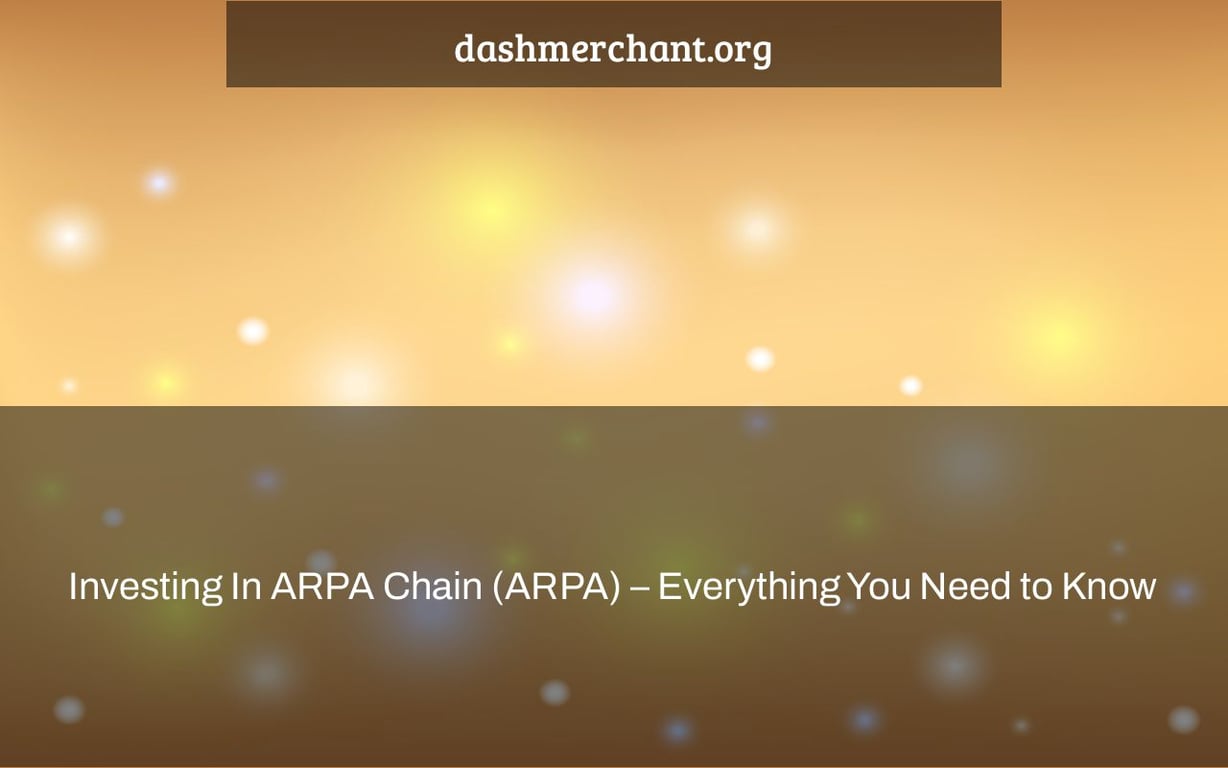 ARPA Chain (ARPA) is a decentralized industrial-level computing network. The protocol is unusual in that it is a layer-2 scaling solution that is independent of the blockchain. Users may earn incentives by sharing idle storage and providing computer processing on the site. Additional privacy features, such as cryptographic private smart contract execution, are also included in the network.
What Issues Does ARPA Chain (ARPA) Try to Solve?
ARPA aims to help people with a wide range of problems. The protocol, like other layer 2 solutions, gives the industry additional scalability. To increase speed, the protocol makes use of a highly scalable infrastructure and computational sharding. In addition, the developers went to considerable pains to make new user and developer onboarding as simple as possible.
Twitter – ARPA Chain (ARPA)
Inaccurate Information
Incorrect data is another key issue that many computer networks have, which ARPA helps to solve. When calculations are performed off-chain, there is always an additional risk. These off-chain transactions are often generated by a centralized mechanism, making them vulnerable. To guarantee that all outsourced data is cross-referenced, ARPA incorporates patented smart contracts. The protocol even uses a Message Authentication Code to validate the calculations.
ARPA Chain's Advantages (ARPA)
ARPA has a number of advantages that make it a worthwhile project to follow. Privacy-preserving smart contracts are integrated into the network. These one-of-a-kind protocols allow networks to communicate private data without disclosing it to other parties. Over a redundant decentralized network, the whole system is protected by enterprise-grade encryption. As a result, developers may create privacy-preserving Dapps on ARPA-compliant blockchains.
Interoperability
Another significant advantage of ARPA is that it enhances market interoperability. As a layer-2 solution that works with any protocol, more developers may take use of its privacy characteristics to build more helpful and immersive Dapps. Most high-performing smart contract programmable networks, such as Ethereum and EOS, are compatible with the network. Developers may choose the blockchain that best meets their requirements, with improved privacy and scalability as a result of this flexibility.
ARPA Chain (ARPA) – ARPA Chain (ARPA) – ARPA Chain (ARPA) –
Scalable
Through the use of sharding, ARPA Chain removes scalability difficulties. In TEE, sharding is a data partitioning approach that enables for off-chain calculations (Trusted Execution Environments). ARPA Chain's data storage capacity is nearly limitless because to sharding.
What is the ARPA Chain (ARPA) and How Does It Work?
The ARPA Chain (ARPA) ecosystem is made up of a bespoke blockchain, a utility token, and a number of proprietary services. To connect the blockchains and protect the network, the network uses proxy smart contracts as a bridge. Nodes, suppliers, consumers, and funders make up the network structure.
Computation by Multiple Parties (MPC)
The ARPA Chain relies heavily on the MPC protocol. This protocol is in charge of decoupling data usefulness from data ownership. It makes advantage of zero-knowledge proofs to allow many users to examine data and extract data synergy together. Zero-knowledge proofs are a security solution that eliminates the need to exchange sensitive information in order to affirm it. The MPC protocol, for example, is divided into two layers: processing and computing. The latter is in charge of executing smart contracts.
MPC – ARPA Chain (ARPA)
Layer of Protocols
A dual-layered method is also used in the ARPA Chain. The protocol layer is the topmost layer. This system works as a public blockchain with no permissions. This network is open to everyone. You are free to join and leave whenever you like. The protocol layer allows users to pool their computing resources in order to maximize earnings.
Layer of Computation
The computational layer is the network's second layer. The completion of MPC procedures is the responsibility of this system. These are network-critical nodes that must fulfill specific requirements in order to be considered. This layer is also where nodes are rewarded for good behavior or punished for bad behavior.
Consensus
To stay valid, the ARPA Chain employs a number of unique consensus techniques. The Proof-of-Correctness mechanism has taken the place of the Proof-of-Work method. Unlike a financial network, this approach accommodates for the fact that just a few nodes, rather than the whole network, do certain calculations. As a result, the architecture was designed to allow the network to delegate code execution to certain nodes while remaining safe.
Proof-of-Computation
The Proof-of-Computation mechanism is in charge of keeping track of how much work each node has completed. The system tracks the node's degree of involvement and awards them for their efforts. The system does this by counting the number of triples utilized throughout the calculation.
Proof-of-Security
The Proof-of-Security mechanism is used in TEEs to validate off-chain calculations. TEEs are off-chain networks that help with processing power. This mechanism verifies that the calculations were completed accurately and on time by these parties. This feature is essential since inaccurate data on a blockchain might cause issues in the future.
Coinbase – ARPA
ARPA
ARPA is the network's primary utility token. Token holders have full access to the network's features and operations, including the ability to pay for data or rent computing power or space. The ARPA token is used to pay for computations, data rentals, model use fees, and value transfers. This cryptocurrency may also be traded on a number of high-performing exchanges. ARPA is an ERC-20 token with a supply limit of 2,000,000,000 tokens.
Governance
ARPA token holders may also vote on future network enhancements. To guarantee that the ordinary user is heard, the system employs a community governance mechanism. Community governance methods strengthen networks by ensuring that individuals with a stake in a project have a voice. Your vote has greater weight in the ARPA Chain (ARPA) mechanism depending on how many tokens you own.
ARPA Chain (ARPA) — A Versatile Second-Layer Solution
The ARPA Chain (ARPA) offers developers and consumers a selection of simple-to-implement solutions. The network enhances privacy, which is always a positive for cryptocurrency users. Furthermore, the project's total value is enhanced by the fact that it may be utilized on a number of blockchains. ARPA is a useful initiative to keep an eye on for these and other reasons.
Watch This Video-
The "arpa coin price prediction 2025" is a cryptocurrency that is worth looking into. The ARPA team has been working hard to make sure that the currency will be able to compete with other top cryptocurrencies in the future.
Frequently Asked Questions
Is ARPA chain crypto a good investment?
A: ARPA is not a good investment, its an experimental technology. This means that investing in the project will be risky and should only be done if you have time to invest patiently on something with low risk like Bitcoin or Ethereum.
Is ARPA a good investment 2021?
A: ARPA is a good investment because its based on blockchain technology, and its value will grow as the technology improves. However, this does not guarantee any returns.
Is ARPA a coin?
Related Tags
arpa chain price prediction
arpa chain price prediction 2021
arpa chain price prediction reddit
is arpa coin a good investment
arpa chain reddit